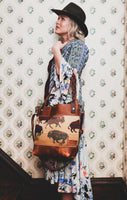 raw + perfectly imperfect
i love to incorporate any range marks [branding + any natural markings from the ranch] in my leather goods. each creation is unique and truly one of a kind when including them into each piece. 
not only do i like unique characteristics from each hide, i love to add pendleton wool prints to my bags, too! i usually make no more than 2 of the exact same, so again, you are receiving something special, not over-saturated + most likely you will not run into another carrying the same piece.
most of my work started by pop-up boutiques, word of mouth and custom orders. now, you'll be able to finally shop my pieces from the comfort of you own space! and i'm having a blast seeking clothing and accessories that makes you feel good + pieces that will make you feel as unique as you are when you put them on!

when browsing through the leather collection, if it says sold out, like a lot will show, i leave the piece up so you may still click on it to see details. if you are interested in one that says 'sold out' please reach out to me via email: revelroots@gmail.com and we can discuss a custom order [i am working on adding a custom order option soon!].